After last year's success, we're bringing back our July 4th photo contest! The rules are the same; everyone who enters will receive a 50% off coupon code, and the winner will receive six free 1/2 gallon bags of her/his choice. Well, it really couldn't be easier to participate:
Take a picture which shows how you're incorporating Lt. Blender's Cocktails in a Bag into your Independence Day celebrations and festivities.
Upload the photo to your Facebook account.
Tag your photo with "Lt. Blender's Frozen Concoctions" so that we can see it. (You will have to have already "liked" Lt. Blender on Facebook, but we're sure that you've done that, right?) Find detailed directions here! https://www.facebook.com/help/146452485427216 . If you are trying to tag the photo from a mobile phone or tablet while using the Facebook app just add @Lt. Blender's Frozen Concoctions to where it says "Say something about this photo..." and we'll get to see it. Don't worry you shouldn't have to type all that out as it will autocomplete when you start typing away.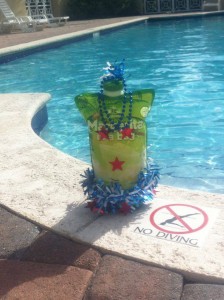 That's it! It's just that simple to enter.
If you want to win, well, we encourage you to be as creative as possible. Of course, we love to see candid shots of our fans enjoying our cocktails, but we will give special consideration to anyone who really goes the extra mile. Make us smile! Surprise us! Take a photo which will make us want to forward it to all of our friends and family and brag about how clever and funny our fans are.
You have until July 7 to enter the contest. We will contact the winner via Facebook and then post the winning photo here on our website. By entering the contest, you agree to release your photo for use on our website and in our marketing materials.
I probably don't have to say it, but just in case: photos which contain inappropriate subject matter will be deleted and will not be considered for the contest. Make it fun, but keep it clean, folks!
We can't wait to see your entries.