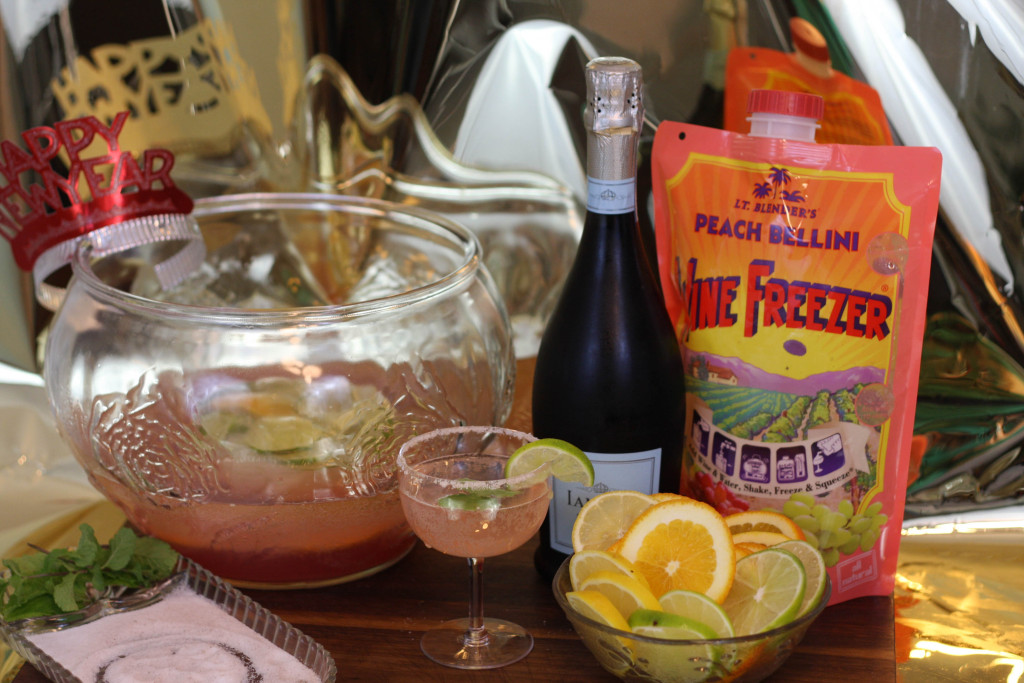 A classic holiday punch is the way to go if you have a lot of guests to serve. Why not make it even easier this holiday season by using one of Lieutenant Blender's favorites, the Peach Bellini Wine Freezer! This punch is sure to help put your guests in the holiday spirit without breaking the bank or causing you to break a sweat.
Prep time: 20 minutes
Cooling time: 4-5 hours
(not including the decorative ice mould)
Ingredients:
1 bag Lt Blender's Peach Bellini Wine Freezer
1 bottle of either Chablis, Pinot Grigio, Prosecco
1 lb of citrus fruit, sliced in discs or frozen peaches
Optional:
½ cup Orange Liqueur
To rim the punch in a glass:
½ cup of sugar
2 teaspoons of ground cardamon
Directions:
The day before (optional):
Create fancy ice cubes by using silicon cup mold or a metal cake pans. Slice up any type of fruit you'd like to add to the punch, add to the mold, cover with water and freeze. Citrus, mint leaves or cranberries give them a festive touch. You can also use regular ice cubes.
The day of:
Add 4 and ¼ cup water to the Peach Bellini Wine Freezer bag, shake and chill.
Chill a bottle Chablis, Pinot Grigio, Prosecco
30 minutes before your guests arrive:
Add the peaches / fruit ice block to the punch bowl
Add the wine to the punch bowl.
Pour in the Peach Bellini Wine Freezer.
Add Orange Liqueur to taste
Garnish individual servings with mint leaves to taste
If you plan to serve the punch in individual glasses, decorate them with a cardamom/sugar rim:
Mix half a cup of fine sugar with 2 teaspoons of cardamom and put the mixture on a saucer
Moisten the rims of your glasses and turn them in the sugar to create a ring.
And there you have Lieutenant Blender's solution to easy entertaining with our Peachy Holiday Punch.
Happy Holidays!